John Hammond is one of the few Caucasian blues musicians who was part of the first blues revival of the mid-1960s. This revival was spurred by the renewed interest in folk music, and also boosted the careers of blues musicians Mississippi John Hurt and Skip James. Hammond, sometimes referred to as a white Robert Johnson, had a powerful stage presence as he combined explosive guitar and harmonica with very expressive vocal ability. John Hammond was born in 1942 in New York City, and is the son of the well-known Columbia records talent scout John Hammond Senior. He grew up loving guitar and his life changed after seeing Jimmy Reed play at the Apollo theater. Hammond has had a long and successful career playing with such musicians as Robbie Robertson, Duane Allman, Dr. John, and Michael Bloomfield. He even provided advice to young Jimi Hendrix in 1966 when he was just getting started. We recommend starting your John Hammond vinyl collection with his essential Sooner or Later as well as I Can Tell. Our LP inventory is constantly changing, so check back often, or browse our list of vinyl from blues musicians.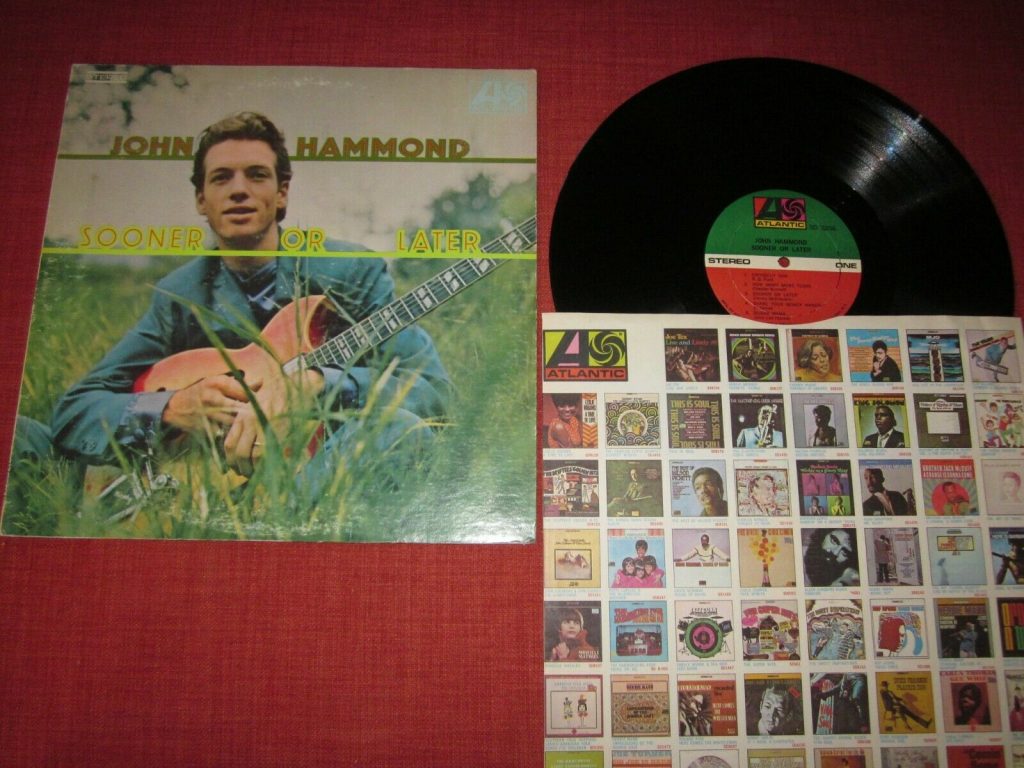 John Hammond: A Lifetime Devoted to Music
Early Years and Musical Heritage
John Hammond, a name synonymous with the discovery of legendary talent and the promotion of authentic American music, was born on December 15, 1910, into a family deeply rooted in the arts and social activism. The Hammond family's legacy of championing civil rights and artistic expression had a profound influence on John's life and career.
A Life of Exploration and Discovery
From an early age, John Hammond displayed an insatiable curiosity and an unshakable passion for music. The young Hammond's love for jazz, blues, and folk music led him to explore the diverse musical landscape of New York City during the 1920s. His early exposure to the vibrant Harlem jazz scene and the budding folk revival laid the foundation for his remarkable career.
Discovering and Promoting Jazz Greats
John Hammond's keen eye for talent and unwavering dedication to preserving America's musical heritage resulted in the discovery and promotion of some of the most iconic jazz artists in history. In the 1930s, he brought the legendary Billie Holiday to the public's attention. His collaborations with Holiday and Benny Goodman elevated the jazz genre to new heights.
A Champion of the Blues
Hammond's appreciation for the blues led him to unearth the talents of legendary blues artists. He discovered Count Basie, who would become a jazz icon and bandleader, in the late 1930s. Hammond's work also helped catapult the career of blues legend Robert Johnson, whose recordings remain influential to this day. His ability to recognize raw talent in the most unexpected places made him a driving force in the world of blues and jazz.
The Folk Music Revival
As the folk music revival gained momentum in the 1950s and 1960s, John Hammond continued to play a pivotal role in the music industry. He was instrumental in introducing the world to folk legends such as Bob Dylan. Hammond's unwavering support and belief in Dylan's talent led to the young musician's signing with Columbia Records, setting the stage for a career that would change the landscape of music forever.
A Tireless Advocate for Social Justice
John Hammond's commitment to social justice was as unwavering as his dedication to music. He was a vocal critic of racial discrimination and segregation, using his platform to champion civil rights and equality. Hammond's integration of racially diverse musicians into his recording sessions was groundbreaking in an era marked by segregation. He stood as a testament to the belief that music transcends racial and cultural boundaries.
Innovations in Music Production
Hammond's influence extended to the realm of music production. His creative and innovative recording techniques contributed significantly to the development of modern sound engineering. His willingness to experiment and push the boundaries of technology led to the creation of some of the most iconic recordings in music history.
Honors and Legacy
John Hammond's profound impact on the world of music earned him a multitude of awards and recognitions, including induction into the Rock and Roll Hall of Fame and the Blues Hall of Fame. His legacy as a talent scout, producer, and promoter continues to shape the music industry, with countless artists drawing inspiration from his work.
Conclusion
John Hammond's life was a testament to the enduring power of music, social justice, and artistic exploration. His relentless pursuit of talent, his influence on multiple music genres, and his unwavering commitment to racial equality and justice have left an indelible mark on the history of American music. His legacy as a music impresario, discoverer of talent, and advocate for change is a testament to the remarkable impact one person can have on the world through their passion and dedication. John Hammond's life and career will forever be celebrated as a shining example of what can be achieved when a love for music and a commitment to justice come together.
Visited 1 times, 1 visit(s) today